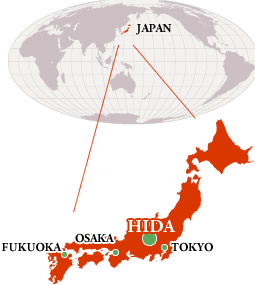 Takayama of Hida is situated at the northern section of Gifu Prefecture, at about the center of Japan. Mountains with thick greenery surrounds Takayama, a city with rich history, preserving the streets from the Edo period. Hida is a "country of forests," with deep relationships with trees from the ancient times.
Through life coexisting with nature, culture of woodcraft is born and the culture has been kept and polished by the carpenters and craftsmen to date. With the tradition rooted in the culture, the skills reproduce the warmth of wood in our life.
Such are the furniture and crafts from Hida. We find skills and design built into them, which would fly with potentials to every corners of the world.